Enjoy the experience of making Japanese handicraft!
Choose one of your favorite workshop from 9 options stated below.
Registration time
Handicraft Experience:
10:30– / 14:30– /16:00-
Time required
Each experience takes 40-70 minutes.
Reservation
Reservation can be made by email or telephone.
We do accept reservation on the day but it is recommended to make your reservation ahead of time.
Reservation TEL:075-761-0142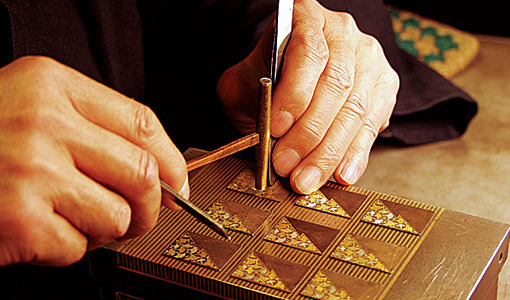 Kyoto Damascene

takes 60 minutes

price¥4,100

On the prepared iron plate, inlay the precut pure gold and silver designs and make your original damascene accessories from two option (pendant or Japanese plaited cord). By the handicraftsmen the rest of the process will be completed in 1 month and send to you.

Woodblock Printing

There are 6 woodblocks to complete one print. You print them in order and finish the work. We have 2 designs: Heian Shrine and Maiko.

Cloisonné 【Silver】

takes 60 minutes

price¥3,025

Cloisonne is what colored-grass enamel is put onto a silver based owl design, and then baked at 800 degree C. Making original Cloisonné on a strap or pendant.

Clay Bell Doll

Dorei doll is a white unglazed bell doll, which is originated from ceramic doll started in Kyoto. Paint a Dorei Doll with watercolor and take it home with you in a small cushion.

Folding Fan Painting

takes 60 minutes

price¥3,025

You will paint on an unfolded fan as you like. When it is dry, it will be fastened at the end with a pair of catch. Fan is the the scented of sandalwood.

Shichimi Blending

takes 40 minutes

price¥1,950

Shichimi consists of seven kinds of seasonings. Blend seven flavor herbs and spices as you like and make your original Shichimi. It will be put into a bamboo cylinder.

Japanese Incense Bag

takes 40 minutes

price¥1,950

Two types of incense bags will be made, one in NISHIJIN textile and one in CHILIMEN (Japanese light fabric with wrinkled surface).
From three types of Japanese incense (OKOU), blend your own mixture and enclose it into each bag.


Spinning Top Koma

Spinning top in Kyoto is made of textile. Coil cotton tapes around the base, and use a brush to coat the Koma with fixative.

Cloisonné 【Copper】

Place glass powder on the copper base, and our staff will bake your work in the oven. Making original Cloisonné design on a key chain or pendant.